Boston Shuttle
MASSACHUSETTS PIRATES GAMES - BOSTON SHUTTLE
Tickets start at $19.00!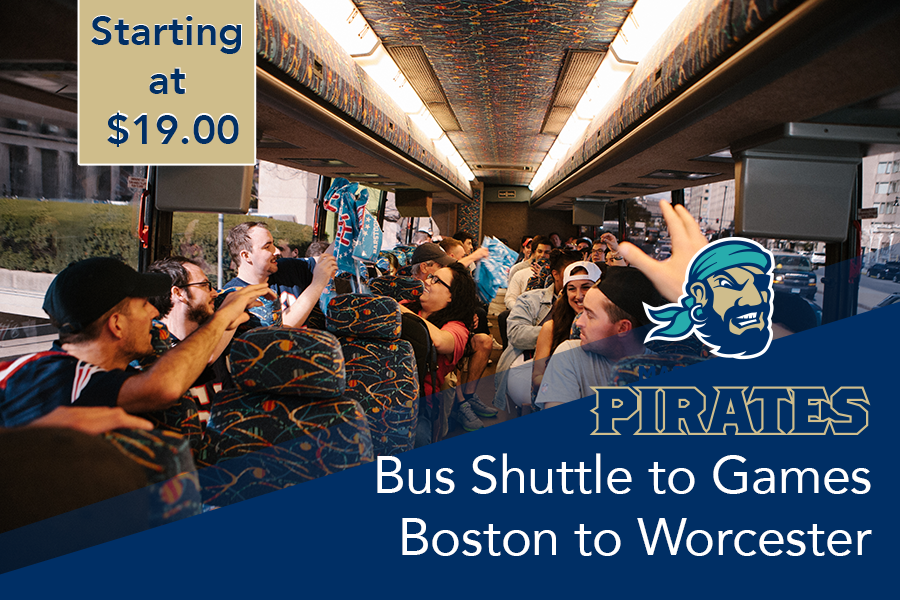 Need a reliable way to get to Massachusetts Pirates Games? We've partnered with Bus.com to shuttle fans from Boston to Worcester.



Here's How it Works:
Go to the the bus ticket page to purchase your shuttle tickets. Download the Bus.com app to keep up to date on pick-ups and drop-offs. Tell all your friends, and bring them along!
Bus Shuttle Includes:
Plenty of storage for all your Game gear

State-of-the-art charter buses for long trips, equipped with air-conditioning and comfortable seats
Frequently Asked Questions:
Are buses ADA accessible?

ADA accessible shuttles are available upon request. Please email info@bus.com to let us know which event you're headed to as well as what date and time you'll be travelling with us, so we can arrange the right vehicle.

Please note that ADA requests must be made a minimum of 2 weeks prior to the start date of the event. Let us know as soon as you book your bus ticket!

Are bus tickets transferable?





Yes, tickets can be transferred from one person to another. Please make sure you provide or are provided with the ticket holder's email, full name, and phone number.




Please note, riders will be checked in. Once a rider is checked in, his/her ticket is expired and no one else will be able to board using that ticket.
Can I switch my bus ticket for another time?

Yes, if there is room on the trip that you want, then you will be able to change your ticket