Coaching Staff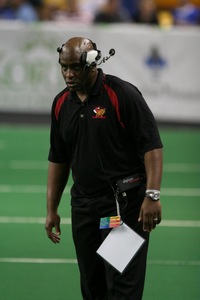 Anthony Payton
Offensive Coordinator
Anthony "AP" Payton enters his tenth coaching season in 2018 after spending last year with former Spokane Empire of the Indoor Football League as the quarterbacks and wide receiver coach, the same franchise that current Massachusetts Pirates Head Coach Ameer Ismail served as defensive coordinator for during the 2016 IFL season. Before joining Spokane, Anthony spent the 2016 season with the Portland Steel of the Arena Football League which marked his return to the sidelines.
Anthony's post-high school football career began in 1993 at East Mississippi Community College (EMCC) as a quarterback, which has been featured on the Netflix original series "Last Chance U," before transferring to Kentucky Wesleyan University. His transition to KWC also brought about a change of position to wide receiver for his final three collegiate seasons (1994-1997), which would lead him to a nine-year professional career in indoor and arena football.
Payton's first professional experience came with the former Indoor Football League's Dayton Skyhawks (1999, 2000) where he led the league in receptions, receiving yards, yards per catch, yards after catch, and touchdowns. The now defunct IFL of the late 1990s and early 2000s did not have any association with the current Indoor Football League. Over the course of the next seven years, Payton played for the AFL's New Jersey Red Dogs (2000, 2001), New Jersey Gladiators (2002), Buffalo Destroyers (2003), and the Las Vegas Gladiators (2005). He also spent time with two af2 franchises, the Louisville Fire (2002, 2004, 2006-2008) and Cincinnati Swarm (2003). During his time in Cincinnati and Louisville, Payton played for now Empire Head Coach Adam Shackleford who held the offensive coordinator positions for the respective franchises.
During his time with the Louisville Fire, Payton held several career receiving records including receptions (231), yards (3,008), and touchdowns (54). He was also the Fire's career leader in all-purpose yards (3,561), points scored (350), and total touchdowns (58).
Anthony's coaching career began at Kentucky Wesleyan where he coached quarterbacks and wide receivers for two seasons (1998, 1999). In 2003 in Louisville, Kentucky, Payton coached at Eastern High School. He would go on to become the offensive coordinator at Fern Creek High School in 2004 and the defensive coordinator in 2005.
After his final professional season in 2006 with the af2's Louisville Fire, Payton took over the offensive coordinator position in 2007 and 2008. His predecessor in Louisville was Adam Shackleford, who went on to be the head coach of the af2's Spokane Shock, the IFL's Tri-Cities Fever, Spokane Empire, and is currently the offensive coordinator of the Nebraska Danger. Current Pirate's Head Coach Ismail also spent time as a part of Shackleford's staff in 2016 as defensive coordinator. After taking over for Shackleford in in Louisville, Payton's Fire team went on to defeat Shackleford and the Spokane Shock in the 2007 af2 Playoffs.