Coaching Staff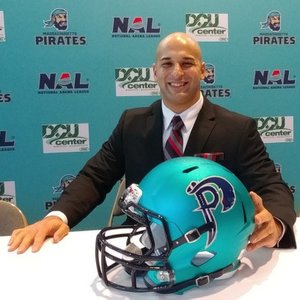 Ameer Ismail
Head Coach
Ameer was born in Lansing, Michigan and attended Holland West Ottawa High School graduating in 2002. Ameer had quite a decorated college career playing at Western Michigan University. Ameer was a DI All-American, Conference Defensive Player of the year, and 2- time 1st team ALL MAC selection. He led the nation in sacks with 17 and tackles for loss with 26. He is the school and conference single-season sack record holder in both categories. He holds the NCAA record with 6.0 sacks in a 41-27 win over Ball State University. He earned his Bachelor's degree in Exercise Science & Physiology, as well as a Master's Degree in Sports Management & Administration.
As a professional player, he spent some time in the NFL as a member of the Kansas City Chiefs and Jacksonville Jaguars. Ismail spent time in the AFL with the Jacksonville Sharks, and the Milwaukee Mustangs but ended up making a name for himself in the IFL. He played 3 seasons for the Tri-Cities Fever (2010), Bloomington Edge (2012) and Chicago Slaughter (2013), earning two First Team All-IFL honors and was the 2012 IFL Defensive Player of the Year with a record 167 tackle season in only 12 games. In total, he recorded 357 tackles, 14 sacks, 6 interceptions, 5 forced fumbles, 8 blocked kicks. Ismail is also an IFL Hall of fame finalist.
In 2014, Ismail made the transition to coaching as a member of the Cedar Rapids Titans being hired as the Defensive Coordinator under Coach Mark Stoute, commanding a Top 2 defense leading the league in forced fumbles and 2nd in sacks. The Titans went 11-3 that season, which was a franchise record, earning them the franchise of the year award.
In 2015, he was hired as Defensive Coordinator of the Tri-Cities Fever under head coach Adam Shackleford. That season, the Fever defense was the #1 ranked defense in the conference. Tri Cities was named Franchise of the Year that year.
In 2016 Ismail took the defensive coordinator position with the Spokane Empire formally The Shock, earning a #1 seed and conference championship with a 12-4 record and helping the Indoor Football League expansion team reach the United Bowl Championship Game before falling to five-time defending champion Sioux Falls Storm. Ismail's Defense was ranked 2nd overall leading the league in interceptions and takeaways.
In the Fall of 2016 Ismail Played and Coached a Season in AFL China (CAFL), He earned All- Pro Honors as a Linebacker and In only a 6 game season filled up the stat sheet with 67 total tackles (league record), 15 tackles in a game (league record), 18TFL's, 3FF's, 5 FR's, 4 sacks, 2 blocked kicks, 1 INT, and 4 PBUs, all while calling the defense as well.
In 2017 Ismail took a Head job with the Bloomington Edge a team he used to play for and did very well. As a rookie head coach, the Edge got off to a 4-1 start of the season before finishing at 7-5 and making the Champions Indoor Football playoffs. Ismail's Defense was ranked 1st in the league in sacks and top 4 overall.