Media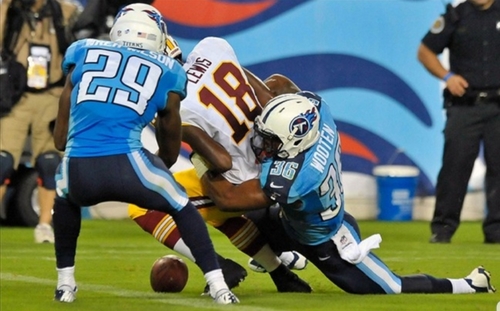 07/08/2018 1:04 AM
-
By Mick Moninghoff
July 6, 2018
Worcester, MA
With four games remaining in the regular season, the Massachusetts Pirates are gearing up for a run at a title by adding two former NFL draft picks on the defensive side of the ball. The Pirates have signed defensive back Khalid Wooten and defensive end Sam Montgomery.
Wooten, (5'-11" 200 lbs.) who played his college ball at the University of Nevada, was drafted by the Tennessee Titans in the sixth round of the 2013 National Football League draft. The San Bernardino, CA native was with Tennessee for parts of three seasons seeing action in three games with the Titans in 2014. In 2016 he played with Montreal in the Canadian Football League. Wooten played six games with Hamilton last season and most recently was signed by the Toronto Argonauts.
Montgomery had an impressive career at Louisiana State University helping the Tigers to an SEC title in 2011 while being named a first team All-American. After earning first team All-SEC honors in 2011 and 2012, he was drafted in the third round of the 2013 NFL Draft. The 6'-3" 270 pound defensive end from Greenwood, SC later signed with Oakland, spent two seasons in the Cincinnati organization and in 2015 went north to Edmonton in the CFL. He signed with Winnipeg last season and saw action with the Blue Bombers this pre-season.
Pirates President Jawad Yatim says the moves should pay dividends both on and off the field.
"We were looking to solidify our defense and we feel as if we have done that with our latest signings," he said. We feel Sam will bolster our defensive front and prove to be real disruptive in our pass rush. We feel as if we'd been lacking a little bit in that department. Sam's explosiveness, and sound technique combined with his hand speed and understanding of body leverage will prove to be valuable for our ball club."
Yatim also believes Wooten will only be an improvement to one of the best defensive backfields in the National Arena League.
"Khalid certainly improves our defensive back field as he seems to always be in good position, is instinctive with great ball skills, physical, and does well in man to man coverage which is obviously an important trait in the arena game. Their pedigree's will be crucial to the ball club as well as both were former NFL draft picks and understand what it takes to get to that level and stay there. We hope it rubs off on some of our younger players and they can learn something from their new teammates. We are certainly glad that both players will be joining us as we hit the home stretch of the regular season," Yatim said.
To make room on the roster the Pirates have placed wide receiver Lamont Bryant (6'-6" 225 lbs.- Morgan St.) and defensive back Demetruce McNeal (6'-2' 200 lbs. - Auburn) on injured reserve and released defensive lineman Darryl Render (6'-2" 285 lbs. – Pittsburgh). Render led the team with three fumble recoveries, posted seven tackles, three sacks, three and a half tackles for a loss, broke up a pass and recovered a fumble for a touchdown vs. Lehigh Valley.
The team has also activated offensive lineman Mitchell Bell (6'-5" 305 lbs. – Louisiana Tech) for this weekends' game at Lehigh Valley.
The Massachusetts Pirates are members of the National Arena League (NAL). The Pirates play all home games at the DCU Center located at 50 Foster St. Worcester, MA. 01608. Pirate Nation Season Ticket Memberships for the 2018 season are now available. Pirate Nation Memberships start as low as $60.00. To become a Pirate Nation Season Ticket member or for more information on the Massachusetts Pirates please call (508) 452-MASS (6277), email contact@masspiratesfootball.com or visit www.masspiratesfootball.com. Single game tickets are available online at ticketmaster.com or the DCU Center Box Office. For group outings please call Kara Mancini at 508-929-0125 or email kmancini@dcucenter.com. Follow the Pirates on facebook at facebook.com/MAPirates on Instagram @mass.pirates, as well as Twitter @mass_pirates.