Media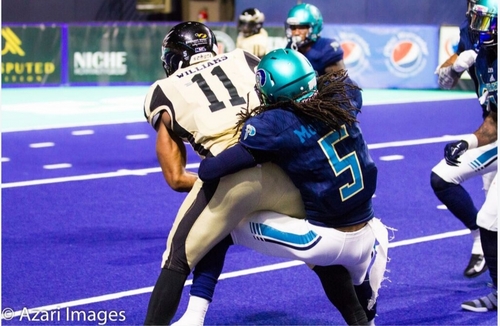 07/03/2018 5:48 AM
-
The Massachusetts Pirates will not be looking past Lehigh Valley when they face the Steelhawks this Saturday at 7:00 pm in the PPL Center in Allentown, PA. The Pirates (8-4) saw the improved Steelhawks (0-10) just two weeks ago holding a 34-33 lead with 6:40 to play in the third quarter before pulling away for a 53-34 victory in the DCU Center.
Last week the Pirates fell on the road in Columbus, losing on a last second field goal 63-62. Sean Brackett had an outstanding game for Massachusetts connecting on 27 of 35 passes with one interception and five touchdowns for 299 yards. His top target was Lavon Pearson who led all Pirate receivers with 11 receptions for 91 yards and two scores.
This season Brackett tops the National Arena League in yards per completion at 12.3. His next touchdown pass will be his 60th of the season as he is 212 of 348 for 2,599 yards with 16 interceptions. The Pirates are averaging 53.2 points per game which is third best in the league. Lavon Pearson leads the team with 58 receptions. Pearson has 16 TD receptions and 678 yards. Devonn Brown tops the Pirate receivers with 19 TD's and 867 receiving yards on 44 grabs. Rounding out the receiving corps are Mardy Gilyard who has 52 catches for 516 yards and 13 scores and Bones Bagaunte with 10 touchdowns on 39 catches and 390 yards.
The Pirates defense is allowing 45.7 points per game which ranks four in the NAL causing 33 turnovers with 23 interceptions and 10 fumble recoveries. The leading tackler is John Hardy-Tuliau with 51.5. to go along with six picks. Kiante Northington has a team high eight interceptions and is second on the team with 45.5 stops. Both Hardy-Tuliau and Northington have broken up 13 passes this season. J.D. Griggs has the most sacks for Massachusetts with seven while Nick Haag has nine tackles for a loss.
In addition to the June 23 victory over the Steelhawks, the Pirates defeated Lehigh Valley at the PPL Center 72-24 back on April 29. In the two contests Gilyard has a total of six touchdowns with four receiving and two rushing.
Last week the Steelhawks lost a heartbreaker at home to Jacksonville 34-31 as a would-be game tying field goal was blocked in the final seconds. Lehigh Valley quarterback Caleb Walton is 101 of 208 this season with eight interceptions and 18 touchdowns for 978 yards. His top receivers are Charles McClain with 49 catches for 446 yards and seven scores, F.J. Williams who has 35 receptions for 348 yards and five TD's and Yusef Reddick with 29 receptions for 352 yards and six scores.
The Massachusetts Pirates are members of the National Arena League (NAL). The Pirates play all home games at the DCU Center located at 50 Foster St. Worcester, MA. 01608. Pirate Nation Season Ticket Memberships for the 2018 season are now available. Pirate Nation Memberships start as low as $60.00. To become a Pirate Nation Season Ticket member or for more information on the Massachusetts Pirates please call (508) 452-MASS (6277), email contact@masspiratesfootball.com or visit www.masspiratesfootball.com. Single game tickets are available online at ticketmaster.com or the DCU Center Box Office. For group outings please call Kara Mancini at 508-929-0125 or email kmancini@dcucenter.com. Follow the Pirates on facebook at facebook.com/MAPirates on Instagram @mass.pirates, as well as Twitter @mass_pirates.