Media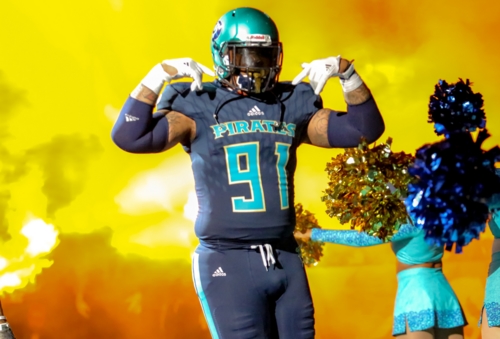 05/07/2018 1:49 PM
-
Darryl Render: A Football Player in a Football Town
By Mick Moninghoff
Worcester, MA.
When you watch Massachusetts Pirates defensive lineman Darryl Render play it looks like he's having fun. While playing for the University of Pittsburgh, Render was a captain and finished his career as an All ACC third team selection. Now he enjoying his time with the Pirates. But how did he wind up in Worcester?
"They reached out to me and gave me an opportunity to get back on the field and play again," he said. We have a team full of ballers and everyone's goal is to win a game no matter what is going on in people's personal lives. At the end of the day when the lights come on we're going to turn it on for each other and have each other's back."
Render scored his first touchdown of the season against the Lehigh Valley Steelhawks, recovering a fumble in the end zone in a Pirates 72-24 victory. He's started on defense where he has 3.5 tackles, two sacks, 1.5 tackles for a loss, one pass broken up and a fumble recovery for a touchdown. Render also seen time at running back where he has carried 6 times for 11 yards and a score. His preference is to make hits instead of taking them, but he's a team player.
"I grew up loving defense, but I'll do whatever I can do to help the team win. If they need me to jump in and fill a need somewhere I'm going to do the best I can."
Render grew up in Cleveland, Ohio, played several sports but knew that football was his first love. He knew he could play the game at a high level and decided to play at a perennial football power, St. Edward.
"I went to St. Edward and our rival was St. Ignatius. We always called them the school across the street from Wendy's. High school was one of the most enjoyable times I've had. I knew I could compete at St. Edward, that's why I went there. I made my parents a promise that if they would pay for me to go to high school, we won't pay for college, so it worked out on both ends.
As successful as his high school and college teams were, he has yet to see his favorite NFL team turn the corner. Render is a Cleveland Browns fan. So what did he think when his team drafted quarterback Baker Mayfield from Oklahoma with the first overall pick in the NFL Draft?
"It shocked me. I was caught off guard. I thought they were going to take Saquon Barkley, the running back from Penn State, but I'm all about the excitement. Mayfield is coming in and will bring excitement to the city and hopefully he'll win a couple of ballgames. They will get it together. I can't put a timeline on it but Hugh Jackson is doing a great job and he'll get that team right."
As for playing in Worcester, Render continues to help his new team win in a city that makes him feel right at home.
I love the city, he said. It's another football town. I went from Cleveland where we are diehards about the Browns win or lose, to Pittsburgh where they love their Steelers, so Massachusetts is like another home for me, it's a perfect fit, but I could never root for the Patriots, no I can't, just too much against them. I can't do it," he said with a laugh.
The Massachusetts Pirates are members of the National Arena League (NAL). The Pirates play all home games at the DCU Center located at 50 Foster St. Worcester, MA. 01608. Pirate Nation Season Ticket Memberships for the 2018 season are now available. Pirate Nation Memberships start as low as $78.00. To become a Pirate Nation Season Ticket member or for more information on the Massachusetts Pirates please call (508) 452-MASS (6277), email contact@masspiratesfootball.com or visit www.masspiratesfootball.com. Single game tickets are available online at ticketmaster.com or the DCU Center Box Office. For group outings please call Kara Mancini at 508-929-0125 or email kmancini@dcucenter.com. Follow the Pirates on facebook at facebook.com/MAPirates on Instagram @mass.pirates, as well as Twitter @mass_pirates.