Media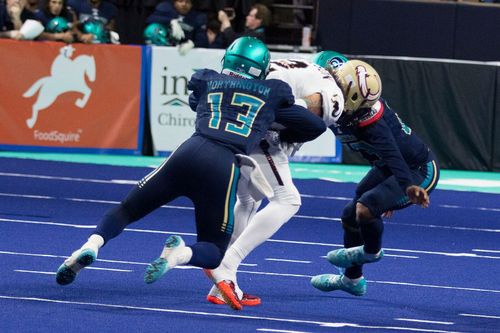 04/12/2018 3:33 PM
-
Week 1
April 7, 2018
Maine Mammoths 24 – Massachusetts Pirates 51
DCU Center, Worcester, MA
By: Mick Moninghoff
Worcester, MA: A crowd of over 6,000 were on hand to take in the inaugural game of the Massachusetts Pirates and what they saw was the home team completely dominate the Maine Mammoths on both sides of the ball as the Pirates won the home opener by a score of 51 to 24.
Pirates quarterback Sean Brackett threw five touchdown passes to lead the offense while Kiante Northington intercepted two passes as the defense forced four turnovers and stopped the Maine offense eight times, securing the victory.
Maine actually scored first as Brandon Rutherford's opening kickoff bounded off the goal post and was recovered at the Pirates five yard line. The first play from scrimmage resulted in a Maine touchdown as Jonathan Bane hit Devin Wilson for a 6-0 lead.
Brackett drove the Pirates down the field in just four plays, the final one a 38 yard touchdown pass to Devonn Brown and Ali Mourtada's point after gave the Pirates their first ever lead. Two completions later, the Mammoth's were back out front as Bane connected with Maurice Dupree and the score was 12-7 Maine.
The Pirates answered again, this time with the running of Brown and Dashawn Johnson. Johnson's two yard scamper gave the Pirates a lead they would never relinquish as the first quarter ended with Massachusetts on top 13 to 12.
The Pirates defense pitched a shutout in the second quarter. Three Mammoth possessions proved fruitless with two ending on a failed fourth down and the other derailed by a Kiante Northington interception. The pick resulted in a TD scored by Orlandus Harris Sr. as he pulled in a 37 yard pass from Brackett. London Crawford also scored on a 10 yard run and Massachusetts led at the half 26 to 12.
In the third quarter the Pirates defense added two more stop before Brackett hit Brown with a 31 yard strike to run the score to 32 to 12. Maine mounted a comeback as Bane found Wilson for the second time on the night with a 10 yard pass and after three quarters the Pirates led 32 to 18.
The Mammoths cut the deficit to eight points as Bane scored on a ten yard run to close the margin to 32-24, but the rest of the game belonged to the Pirates. Devonn Brown caught his third TD of the night, John Hardy-Tuliau intercepted a pass leading to Dashawn Johnson's second rushing touchdown, Kaelin Burnett's fumble recovery led to Brackett's fifth scoring pass of the game, caught by Lavon Pearson and Northington capped the 51 to 24 victory with his second interception of the night.
After winning the first game in franchise history, the Pirates play their first ever road game on April 14 in Jacksonville.
Massachusetts Pirates Game Stats:
Offense:
Passing: Sean Brackett- 10-26 169 yards 5 TD 2 INT
Receiving:
Orlandus Harris Sr- 3 Rec. 55 yards 1 TD
London Crawford- 2 Rec. 15 yards
Devonn Brown- 3 Rec. 86 Yards 3 TDs
Lavon Pearson- 2 Rec 13 yards 1 TD
Rushing:
Dashawn Johnson-6 Carries 23 yards 2 TD
London Crawford- 2 carry 14 yards TD
Devonn Brown- 1 carry 11 yards
Sean Brackett- 1 carry 12 yards
Defense:
Kiante Northington- 5.5 (5 Solo 1 AST) Tackles 2 INTS
John Hardy Tuliau- 3 Tackles (3 Solo) 1 INT 2 PBU's
Cheatham Norrils- 1.5 Tackles (1 Solo 1 AST) 2 PBU's
J.D. Griggs- 1 Tackle (2 AST)
Kaelin Burnett- 1 Tackle 1 Sack 1 TFL 4 yards 1 FR
Toby Jackson- .5 Sack
Daryl Render- .5 Tackle (1 AST)
Nick Haag- 1 PBU
Shawn Loiseau- 2 Tackles (1 Solo 2 AST) 1.5 Sack
Pasquale Vacchio- 1.5 Tackles (1 Solo 1 AST)
Special Teams
Ali Mourtada- 3/8 Extra Points
Orlandus Harris Sr. 1 Return 14 Yards
The Massachusetts Pirates are members of the National Arena League (NAL). The Pirates play all home games at the DCU Center located at 50 Foster St. Worcester, MA. 01608. Pirate Nation Season Ticket Memberships for the 2018 season are now available. Pirate Nation Memberships start as low as $90.00. To become a Pirate Nation Season Ticket member or for more information on the Massachusetts Pirates please call (508) 452-MASS (6277), email contact@masspiratesfootball.com or visit www.masspiratesfootball.com. Follow the Pirates on facebook at facebook.com/MAPirates on Instagram @mass.pirates, as well as Twitter @mass_pirates.